READING VEDIC LITERATURE IN SANSKRIT


His Majesty Prof. Tony Nader-Ram:
The discovery that the human physiology is Veda tells us that the
human physiology contains within it the total, infinite organizing
power of Nature. The field of all possibilities is open to human
understanding and direct experience. The human physiology is
itself the field of all possibilities—Veda expressed in material form.
Those who practice Transcendental Meditation have
the experience that Transcendental Consciousness is
unbounded awareness--it is pure wakefulness; it is fully
awake within itself; it knows only itself and nothing else.
Knowing itself only, Transcendental Consciousness is
the knower, it is the process of knowing, and also it is the
known--it is all three itself--it is togetherness of the knower,
knowing, and known. It is the Samhita of Rishi, Devata,
Chhandas; therefore,
My Vedic Science, the science of the Samhita of Rishi,
Devata, Chhandas, is the science of Transcendental
Consciousness, which is self-referral consciousness, or
pure consciousness, therefore,
My Vedic Science is the Science of Consciousness.

-Maharishi's Absolute Theory of Government, pp. 255-256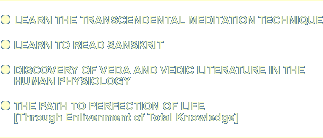 ©2001 Maharishi Vedic Library
•contact us•

Holistic
(Dynamic Silence)

Whole
Physiology

Flowing
Wakefulness

Sensory
Systems

Offering and
Creating

Processing
Systems

Reverberating
Wholeness

Motor
Systems

Expressing

Autonomic
Ganglia

Transforming

Limbic
System

Expanding

Hypothalamus

Self-Referral

Pituitary gland

Measuring and
Quantifying

Neurotransmitters,
Neurohormones

All-Knowing

Basal ganglia,
cerebral cortex,
cranial nerve,
brain stem

Distinguishing
and Deciding

Thalamus

Specifying

Cerebellum

Enumerating

Cells, tissues,
organs: types
and categories

Unifying

Association
fibres of the
Cerebral Cortex

Analyzing

The central
nervous system

Lively Absolute
(I-ness or Being)

Integrated
functioning of the
central nervous
system

Integrating and
Harmonizing

Cycles and
rhythms,
pacemaker cells

Invincible and
Progressive

Immune system,
biochemistry

Establishing

Anatomy

Nourishing

Venous and
biliary systems

Differentiating

Lymphatic
system and
glial cells

Equivalency

Arterial system

Balancing-
Holding Together
and Supporting

Cell Nucleus

Separating

Cytoplasm and
cell organelles

Communication
and Eloquence

Cytoskeleton and
cell membrane

Diagnosing

Mesodermal cells

Synthesizing

Endodermal cells

Enlightening

Ectodermal cells

Transcending

Ascending tracts
of the central
nervous system

Stirring

Fasciculi proprii

Structuring

Descending tracts
of the central
nervous system

Blossoming of
Totality

Voluntary motor
and sensory
projections

Ancient and
Eternal

Great intermediate
net

Memory

Memory systems
and reflexes

All-Pervading
Wholeness

Cerebral Cortex
Layer I

Silencing, Sharing
and Spreading

Cerebral Cortex
Layer II

Unfolding

Cerebral Cortex
Layer V

Dissolving

Cerebral Cortex
Layer VI

Omnipresent

Cerebral Cortex
Layer III

Unmanifesting
The Parts, But
Manifesting The
Whole

Cerebral Cortex
Layer IV